Post by Public Enemies on Apr 22, 2012 21:18:02 GMT -7


LIVE! April 8th, 2012 from GHW Arena in Boston, Massachusetts!

******************************

DARK MATCH
SINGLES MATCH
Michael Ian Ford vs. Mister Hyde

Winner: No Contest / Draw sadly.

**********

-Total Carnage Anticipation-


A man dressed in jeans and a GHW made T-shirt with the theme "The Perfect Gentleman", of course featuring Hughes on the back, walks out of his bedroom door and shuts it behind him. The said man walks over into the living room where there is a group of middle-aged men sitting on a sofa watching an MMA styled fight on a TV screen, while drinking Budweiser's beer. The new man meanders over to the kitchen counter and picks up a Mountain Dew, opening the can with a pop.

New man: So guys, come on. We're going to be late; Total Carnage starts in an hour.

A big burly man with a hairy chest answers back.

Big burly man: Meh, this is better. Watching real men fight it out.

New man: Oh come on dude. This pay-per-view is going to be excellent! There is Ryan Hughes against Santiago on the card.

A second of the beer drinking bunch, Irish looking by his ginger hair shots back.

Irish dude: Fuck that. An uncharismatic, one dimensional character with an over done gimmick, really? "OH LOOK I HAVE STOLEN THE DKO! NOW I CALL IT SKO! I'M THE ASSASSIN, I'M AWESOME!" I'm sick of that guy. He is exactly as he was when Stone Orchard raped him on a weekly basis. Now that was the good old days. And this Ryan Hughes guy, what the fuck man? How he has won the New Age I don't know. I mean he can only just kick and punch. M. Bison had a far more extensive move set.

New man: HEY FUCK YOU! HUGHES IS MY FAVOURITE!

The third in the group, a baldy with a face not too unlike that of a potato turns away from the screen.

Potato face: Fuck Hughes. Now if you'd said something about the KOTDM with Delta in it-

Irish dude: FUCK THAT GUY! Since the day he has appeared on TV, my wife's become a wrestling fan. Can you believe it? That woman used to hate me for watching wrestling. Now I don't get to have sandwiches whenever TNT is on.

The final guy in the far end of the sofa with a blond beard and pouty lips brings down his beer bottle.

Blond bear: I feel for you man.

New man: Are you people kidding me?

Suddenly an advert for Total Carnage comes up in the middle of a break.

Big burly man: OH MY GOD! IS THAT WHO I THINK IT IS?

Blond bear: OH MY GOD! YES! YES! YES!

Potato face: HOLY JESUS! JAMIE WHERE IS MY TICKET MAN, LETS GET THE FUCK OUT OF HERE WE HAVE TO GO NOW!

New man: What-

Before he can mutter another word out the other four are up and out of the front door. The dude with the Ryan Hughes T walks around to face the television screen. The Ad is drawing to an end and with a flash it goes from the Total Carnage logo to a question.

"Are the rumours true? Who is this mystery man?"

An array of pictures quickly shuffles through under the Total Carnage insignia. They contain the faces of some legends. Mathew Oliveira to Vladimir Strife, Brian Commonwealth to Hayden Hardkore until it gets to the Walker brothers and finally-

Big burly man: COME ON DAMMIT I DON'T WANT TO MISS BEAUCHAMP!



MATCH ONE
SINGLES MATCH

vs. Mystery Opponent
Tale of the Tape: This tale is very much barren as Total Carnage kicks off with a mystery match featuring Jack Tracks and a returning superstar. Who could it be? Is it Matthew Oliveira? Well, Matt-O will be on commentary, will he step into the ring?! It's GHW dude, anything is possible.

Winner: Jack Tracks

~GHW TELEVISION CHAMPIONSHIP~


HELL IN A CELL MATCH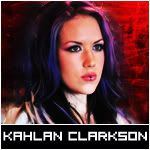 vs.

Tale of the Tape: These two vixens have a harsh relationship that's only been burning like fire over the past few weeks. Wolverina has criticized Kahlan's lackluster effort with her history of no-showing matches between the two. Last week, Kahlan did show for her match and happened to make off with Wolverina's Television championship. Kahlan demands that her...demands be met before she even shows up to face Wolverina in the cell. Wolverina, on the other hand, is determined to have her demands met after she defeats the Ladder Queen.

There's shit load of stuff I can say about this match, but I'll simply tell all of you to read it. As for the Scally scandal, I'll address it in an address this week on TNT. Both gals put on a great show. The common reader would never guess this was for the Television Championship; more like a world title match. A textbook clinic that brought proud meaning to the phrase 'Total Carnage'.

Winner: Wolverina

- Karma Police -


The scene opens with Charlie Coors and that signature sheepish smile of his, as he stands in front of a television screen bearing the animated logo of Total Carnage. The hellacious match between Wolverina and Kahlan has come to an end, and the fans are still buzzing at the result, and you can hear them all excitedly muttering between themselves as they watch the screen that this interview is played on. Clearing his throat, Charlie raises his GHW branded microphone to his lips as he addresses the camera.

"Ladies and gentlemen, please allow me to introduce my guest at this time... The GHW Champion, Ryan Hughes."

The buzzing turns to an almighty booing sound as the camera slowly pans over to the afforementioned guest. Ryan stands there smiling in to the distance, letting his belt rest on his shoulder, glistening in the stage lights. He stands in his usual blazer, with a "TWO GIRLS - ONE UP" Super Mario t-shirt underneath. But this classy t-shirt is nothing to the classy state of his pearly-whites, which shine brightly in the beams of the lights in front of him. Not taking much notice of Coors, the champion doesn't even turn his head when the interviewer asks the first question.

"Ryan, you go in to tonights match with Dominik Santiago knowing that the last time you two faced with the GHW Championship on the line, you lost at Red, White and Bruised 2010. Is this going to play on your mind during your match?"

The smile on Hughes' face turns to a sneer as he slowly turns towards Charlie, who looks frightened at the intimidating figure in front of him. Instead of brutalising the poor chap, he simply grabs Charlie's hand to bring the mic up to his height.

"I've gone through this crap backstage with you for long enough, Coors. How about you let me ask the questions? Say Charlie, have you ever heard of karma?"

"W-well of course I have, who hasn't hear-"

"Well then you will know that the basic principle of karma is 'what goes around, comes around'. In 2010, I came off the biggest match of my life when I outlasted FIFTEEN other men to win the NeXuS Deathmatch. I went through hell that night, and boy did I feel the effects afterwards. But it was worth it- I was the GHW Champion. I was King. But of course, every King must deal with Assassins. I was still nursing my injuries following NeXuS, and I didn't fight again until Red, White and Bruised; even then because I would be stripped of the belt if I didn't defend it. I walked in to that match at less and one hundred percent, and that snivelling wretch Dominik Santiago seized the opportunity, and seized my throne. MY THRONE, CHARLIE!"

Ryan's eyes widen in anger as he spits his words at Charlie, who leans as far back as possible without falling over. Taking a deep breath to calm himself, the Mancunian continues.

"That night haunted me. That night, no matter how hard I tried, would never leave my brain. I had to live with the fact that I was hoodwinked in to losing the one thing that I held dear, the one thing that was sacred and true in my eyes. Yes, I tried to win MY championship back, but I never could. You know why? Because every single time, I reminded myself of that night. I reminded myself that no matter what would happen, my parade would be rained on. Hayden HardKore, Jake Diamond, Thomas Waker, Metal Dragon. They all slipped out of my grasp thanks to Dominik Santiago. While I was playing the court jester, he was the king of the castle."

"At Full Circle, Freddie McGavin won the Golden Ticket, a brilliant concept devised by Smarky Smark. What do they have in common? Freddie was my protege, while Smarky was a man I consider my friend. I knew that Smarky didn't fix all the loopholes in his Golden Ticket scheme. The Ticket goes out in to the open if the holder isn't fit enough to use it. I took advantage, and finally the stars were allinged in my favour! I saw that Freddie wasn't fit enough to use his Ticket, and I claimed it as my own. All legal and above board. So at Dawn of Destruction, I was the man with the Golden Ticket, given a front row seat to the carnage that was the main event. It was all so easy, and by the end of the night, I was King once more, and the Assassin was Assassinated."

Smiling once more, the GHW Champion adjusts the belt on his shoulder, looking at it with a fond admiration as he finishes his speech.

"What goes around, comes around, Charlie. The Karma Police arrested Dominik Santiago, and I am the man that holds the key to his release."

Keeping the creepy smile plastered on his mug, the champion walks out of shot, leaving Charlie to recompose himself as the feed returns to the arena.




~GHW KOTDM CHAMPIONSHIP~




AMBULANCE MATCH!

vs.
vs.

Tale of the Tape: It's odd to think that a simple rant from AJ Scally led to all of this. As a winner couldn't be decided, both Millson and Scally will compete against Dustin Delta in GHW's first ever Ambulance Match!

If you're familiar with United States history, you may have heard about a peculiar case of death. Political rivals John Adams and Thomas Jefferson both died on the same day, July 4th, 1826. According to myth, both death messengers crossed paths while delivering the news of each others deaths. And to each said to the messenger, at least Jefferson/Adams survives. So what does this have to with wrestling? Everything. Both Millson and Delta joined GHW within just a mere month of one another. Numerous TV titles, tag titles, and KotDM titles between the two beings. Just 2 years into their careers, with a mountain of accomplishments to reach. No matter the belt, these two will somehow fight one another to the end.

I looked for every possible loophole when judging this match. No matter what, I could find no evidence of powerposing nor additional or unequal actions. Combing over and over it seemed too equal. If I could call a draw, I would, but I won't tonight. Instead, I've chosen a winner this round.

Winner...and...STILL KOTDM CHAMPION: Dustin Delta!

-LOLAJ Scally-


The scene opens to show AJ Scally sitting all by himself on a bench, head in his hands. He soon looks up in anger before talking.

AJ: Kahlan may be a whore, but I am on my back more times than I can count.

The Aussie lets out a sly laugh before continuing.

AJ: Wolfie may have huge breasts but I am the biggest boob in the company.

Scally looks left before turning back and closing his eyes in anger. Eventually he re-opens them and continues.

AJ: Milson may have killed the tag team division but I kill ratings.

Scally laughs a little once more before continuing.

AJ: My point is that I am a loser, always have been, always will be. I try my best and it isn't good enough. I try to put on the best match possible but it is hard for a crowd to get invested in a match when they know the outcome already. So come on give it your best shot because it will certainly be better than me.

The Novocastrian smirks before continuing.

AJ: Guys and gals buy, download or do whatever you do to get videos and get Dawn of Destruction 2010, because that contains what will be AJ Scally's last ever win inside a GHW ring.

One more laugh occurs before he finishes.

AJ: LOLTV Title? More like LOLAJ Scally.




-There's No Such Thing As Karma-


Dominik Santiago has had a roller coaster career, filled with storied rivalries, five star matches, and devastating losses. Nothing however compares to what happened at Blood Runs Cold. The Assassin had his most prized possession, the GHW Championship, the only thing that gave meaning to his very existence snatched away from him. In the blink of an eye, in an unjust manner. His hard work and dedication all torn away from him in a manner of seconds. Some might say it was karma, or the universe policing itself. The former champion didn't see it that way. In his eyes, it was nothing more than the biggest screwjob in GHW's history. A robbery, by a scoundrel fueled by his greed, and jealousy. Many people say the greater the rise, the greater the fall. For years people have been calling for the plight of one Dominik Santiago, and after the travesty that transpired at Blood Runs Cold, it looked like that very thing had come to fruition. No one had seen the aforementioned Lord of the Flies... well until now. Its Total Carnage, the main event is moments from getting underway, and we find the surefire Hall of Famer seated in his lockeroom. Fresh off a vacation, Dominik Santiago has returned to the place it all started, lacing his untied boots, preparing himself to write another chapter in the book between he, and the GHW Champion, Ryan Hughes.

Dom: "I've taken a sabbatical, a long month to think long and hard about what's about to happen in this arena, in that squared hell we call a ring. And I've come to a satisfying conclusion. Tonight Ryan Hughes is going to get my best, and for that I cannot be held responsible for what I'm going to do to him. If Ryan Hughes is the karma police, then I am the Public Enemy, screaming fuck the 5-0. Heavy is the head that wears the crown Mr. Hughes, so to help clear the weight for you, I'm going to kick your cranium straight off your shoulders. I'm going to bend your extremities far beyond their limits, then break them. And its going to be slow... so I can savor the raw emotions. Your grimaces, your wincing, your writhing in pain, I'm going to savor it all. You're going to realize that what you did at Dawn of Destruction will be the biggest mistake you've ever made. I'm going to make you come to that realization, because you know I can."

The Assassin begins wrapping his wrists with white tape, something he adopted from Matthew Oliveira.

"What happened at Dawn of Destruction wasn't karma restoring order, it wasn't revenge either. It was fear and paranoia; a fear that you had become irrelevant, and that I was the unequivocal top dog. Nothing has changed since then Hughes. Look around you. You're still irrelevant. You're still not a must see champion. In the month that I've been absent, everything has gone to shambles. Grimey C. Whiskey has been future endeavored. Arenas are no longer selling out anymore. Triumph ratings have plummeted. Hell, even the wrestlers are barely showing up to work anymore. And the reason... you're just not the type of champion anyone can rally around. And deep down, its killing you Ryan. I know you better than anyone. I know whats ticking inside the time bomb of yours. I've acquired this knowledge through the plethora of times I've made you yelp in agony, and beg for mercy. You're a coward, always have been, always will be. What you did to me at Dawn of Destruction was just another act of cowardice."

Dominik leans away from the camera, grabbing a bottle of water. He takes a quick drink, quenching his thirst, intimating such through a long exhale. The remains are poured over his head, drenching his blond hair. Water cascades from his dome, down his face, and crashes to the floor. He briefly sits there in silence, his head titled askew, knuckles being cracked as they sit across his lap. After the momentary pause he rises from the seat.

"What I've done to you in the past Hughes will pale in comparison to tonight. You're not the champion Ryan. Your name might have been called at the end of Dawn of Destruction, and you may be toting the GHW Championship around, but you're not the champion. Whether you think you are is of no consequence anyway. All that matters is that you're going to understand that what you did to me may have given you a good feeling for a couple of weeks, but its going to end tonight, in a prolonged juncture of torture..."

"Hughes, you speak of karma, but I don't believe in it. I believe in people creating their own destiny. You took matters, you took fate into your own hands last month, and succeeded in vindicating your pathetic career, and avenging the lowest point of your life, last year at Red, White and Bruised. But all that satisfaction will be short lived after tonight, because if the so called karma police came and arrested me, the sirens will surely be ringing tonight, because I know if there's something called good karma, there's definitely some bad karma. So the very thing that happened to me last month, is going to happen to you. The police will be knocking on your door Hughes. You'll be detained, handcuffed, take a ride in the back of the wagon, and be mug-shotted. And that mug shot will be me standing over your battered carcass with my hand raised in the air, and my GHW Championship returned back to its rightful place...around my waist."

The Assassin begins to smile, the same cocksure smirk he's be known for during his entire, illustrious career.

"But then again if you ask me Hughesy, there's no such thing as karma... just Dominik Santiago and Ryan Hughes meeting face to face, and you know from experience how that usually ends..."

"...with an SKO, me leaving victorious, and you sulking over another monumental failure."



=MAIN EVENT=
~GHW CHAMPIONSHIP~
SINGLES MATCH

vs.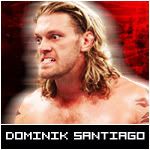 Tale of the Tape: At Dawn of Destruction, Dominik Santiago was riding after yet another successful title defense against Barta Bull. Moments after his victory, Ryan Hughes cashed in his newly 'obtained' Golden Ticket and spoiled Dominik's victory. Now tonight, GHW fans will really see how worthy Ryan Hughes is of his GHW Championship. Was the title swiping a cheap victory or the shape of things to come for the GHW Championship division?

Winner: It took three different judges, but a winner has finally been determined.

Winner...and...NEW GHW CHAMPION: DOMINIK SANTIAGO!
---
Outstanding work, to all of you.