Post by Dr. Horror on Nov 26, 2011 0:31:14 GMT -7
-OFFICIAL GHW CONTRACT-
Basic Information
Name: Dr. Horror
Age: 40
Gender: male
Hometown: Gilmanton, New Hampshire
Classification: Heel
Statistics
Height: 6'9''
Weight (pounds): 296 lbs.
Weight Class: Superheavyweight (291+lbs)
Description:
Character Summary: Basically, the story behind Dr. Horror is that he used to be a respected surgeon. After years of being a great surgeon, there began a string of mysterious, violent deaths among the doctor's patients. Eventually, it was discovered the deaths were all caused by the doctor. Due to lack of evidence the doctor did not receive a severe sentence. And now, never being allowed to return to the medical profession, his reign of terror continues in the wrestling world. His real name is unknown to the wrestling world, but his name, Dr. Horror, was derived from the media headlines during his trial.
In-ring Attire (pics permitted):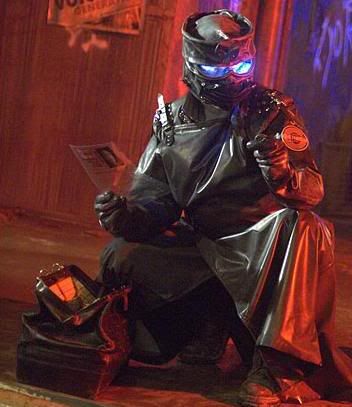 Entrance Attire (pics permitted): same as in ring, except carries a doctor's bag filled with his surgical tools/weapons
Backstage Attire (pics permitted): same as other two, but can sometimes be seen without his mask
or
Entrance theme:
"Anesthesia" by Type O Negative
Fighting Style:
Technical (more reliant on submissions, wearing opponents down)
Strong-Style (a powerhouse, usually reserved for bulkier wrestlers)
Brawler (prefers the aid of weaponry, fighting is unorthodox and basic, reliant on striking and rule-bending at times)
Wrestling Repertoire
Common Moves (list 25):
-Big Boot
-Powerbomb
-Alabama Slam
-Diving Clothesline
-Vertical Suplex
-Top Rope Fall away Slam
-Spinebuster
-Canadian Backbreaker
-Chokeslam
-Inverted DDT
-Full Nelson slam
-Lifting DDT
-Belly to Belly Suplex
-Knee Strikes to head followed by Headbutt
-Samoan Drop
-Electric Chair
-Sidewalk Slam
-Two-Handed Chokeslam
-Swinging Neckbreaker
-Gorilla Press Slam
-German Suplex
-Tilt-a-Whirl Backbreaker
-Diving Elbow Drop
-Running Leg Drop
-Northern Lariat
Set-up/Signature Moves:
-Amputation (pop-up European Uppercut)
-Anesthetic (half nelson choke) (sometimes used as a finisher)
Finishing Move:
-Lobotomy (cut-throat driver)