Post by Jaggeroth's wench. on Jul 7, 2012 12:27:12 GMT -7
Once in awhile a gorgeous young woman is allowed to interview a star backstage, that woman tonight is none other than transient mic-lady Malibu. Her pretty body and smiling face greets those watching on the tron and from on their couches at home. They cheer her, then suddenly lash out with boos as the GodQueen emerges into the scene from the right hand side. The Queen of Queens smacks wildly on a piece of gum, almost annoyingly, and appears totally carefree. Wolfie looks off into the distance, refusing the interviewer the luxury of acknowledgement.
"Folks, I'm joined here by Wolverina, who is just moments away from stepping into the ring for tonight's mega main-event. Wolfie, I just wanted to get some quick words with you before you head out. I'm sure you heard Dominik's words earlier in the broadcast and-"
A face-palm silences her.
"I saw about 10 seconds of Santiago's promo. It was the same promo he cut last month, and the one before that, and the one before that one. I knew it was going to be the samey-samey phony bologna crap he produces each time, just set in a different location. So, no, Malley-Boobs, I didn't see all of it and don't need to. Let me guess. He blabbed about how he is the so called GHW Champion, although he knows he didn't beat me at NeXus. I'm not the only one who has advised him on his defeat, but he just won't accept it from his peers either. And people look at me like I'm the delusional one? HA! Dom and I were both laid on the mat at NeXus, beaten senseless, and time was running down. His arm happened to rest upon my chest by accident, and mine on his stomach. Then, a referee swam out of Santiago's asshole, and was out of position when he commenced the three count, completely blind to the fact that I too had Santiago covered. At the very least our match of the year should have been declared a draw. But it wasn't, because Domnik has amassed a sympathy party as of late, which he manipulates to the fullest because of his dwindling career that's near it's end, so obviously favor went to him. He talks about respect and being a good champion, yet instead of making things right by giving me a rematch and beating me emphatically, where there would be no room to question it, he's trying to move on and fight everybody in the world that isn't me. He can try it, but I'm not going to let it go. I am going to keep disrespecting him because it's the only language he speaks. Unlike everyone else, I ain't afraid to speak the truth and the truth is this: Dom is a lazy, inconsistent, over rated hack. There I said it."
The fans unleash hell upon the Queen for her over the top disrespect toward the legitimate legend.
"Wow. Well, Wolfie, you have a chance to get a sliver of revenge against him tonight in your tag team match if you're able to pin him. Speaking of that match, it has all the components to be a classic, and-"
Once again, rudely, the face palm quiets Malibu.
"It's not a tag team match it's a 3 on 1 handicap match. I saw Millson conversing with the enemy tonight. He's on their side, so I am going to treat him as such. I've beaten all of them one-on-one and in tag matches before, but by their powers combined they may be too much for even a GodQueen to handle. In fact, Scabby-Blue, I know one of two things will happen. Dom will fish another ref out of his ass and get the win for his team... OR.... Millson, being British and a loser will somehow cost the match for me. However, I'm still going out there, being the good and just Queen that I am, and will put on a performance for the ages."
"It's almost like you think there's a conspiracy going on against you. Is that what you are hinting at?"
"Yes. Well, against my gender anyway. That's why I had to duplicate the GHW Championship, because I knew even in victory the GHW Universe would not be ready for a female world champion. Although I've gotten negative attention for it, it's still attention and Dom is being exposed for the fraud that he is because of it. Now as for Delta, I gave him an ultimatum that will last for one week, so hopefully he'll make the right choice. And to coax him into the right direction, I've retrieved the original King of the Death Match championship, which I turned into the Queen of the Deathmatch as seen here."
Wolverina turns and tosses the GHW Championship on one shoulder, then tosses the ORIGINAL King of the Deathmatch title (that she never lost) in all it's pink glory onto her other shoulder.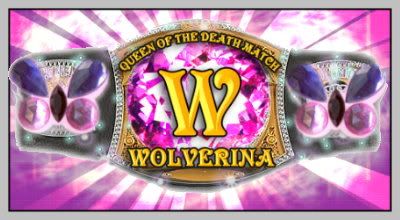 "All he has to do is set that seven dollar belt at my feet and forfeit his status as KotDM to me. In turn, I'll do everything that I promised. Oh, but I'm not stopping there. Desperado's long overdue NeXus victory got me to thinking about last year's NeXus and the outright miscarriage it was. So I went to Ten-uh-see, tracked down Metal Dragon's trailer park, showed up at the curtain he calls a door and ripped it down. He was passed out on the couch with vomit stains all over his clothes, so I spared him an ass kicking and retrieved the NeXus V trophy that he never should have had. See..."
The Queen pulls the NeXus V trophy into view and tucks it at her side with her right arm.
"Now if you'll excuse me, I've got these titles to defend and some asses to kick."
Wolverina abruptly walks away, leaving Malibu with that awkward moment of not knowing what to do.
EOT.